The following review is an Amplify Guest Post by Walt Blythe of Space4Lease. Cover photo provided by Ryan Magnani and Brittany Phillips.
Bands. Big bands. Upcoming bands. Old bands. Your favorite bands. Your not-so-favorite bands (we all have them). The ones that you accidentally fall in love with on an unexpected playlist. The ones that pop in and out of your feed. And the bands that seem to never stop. There is a common thread behind all these bands. They all started somewhere. The root of that "somewhere" is a place called a local scene. And we Oklahoman's have a generous one to immerse ourselves in.
A staple of OKC's entertainment comes from Uptown's Tower Theatre. Right out of the gates Tower became a beacon of hope for upcoming local musicians, like myself. As most of you are aware, this gorgeous venue hosts national acts left and right. But what you may not realize (and I'm guess-timating here) that roughly 90% of Towers staff is local musicians. On top of this locally run operation, Tower has come to host, alongside COOP Ale works, a monthly event for up and coming musicians and music lovers alike and a chance to come together and celebrate our scene.
The Lineup
At the August 30thCOOP Ale Works Showcase, Tower Theatre and Christian Pearson of OkSessions pried my eyes a little more wide to the potential of our community and the opportunities for musicians and non-musicians to participate.
This installment of the COOP Showcase featured an eclectic bill full of talented Oklahoma City cats. Jose Hernadez, Swim Fan, and Vonna Pearl. All three bands predominately feature new conglomerations of individuals who are behind so many different Oklahoma projects, bands, records and performances current and past. I'll through some names for example. Horse Thief, Chair Model, Chelsey Cope, Semblance, Special Thumbs, The Wurly Birds, Spinster, Aranda Ripple Green…. I could keep going. On to the show.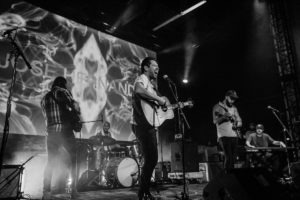 After many reconnections with music buds and catch up conversations, I finally make my way down the hall into the venue. My first impression comes from Jose Hernandez opening tune. A rocking progression with hints of Springsteen and Sturgill Simpson which set ground for Jose's thick soaring vocals. The dim room was about half full for 8:30 pm. I'd call it a generous crowd. The well-lit smokey stage set an enormous vibe for Jose and his band. Jose's performance rode waves up and down never losing this underlining emotional grit. I've seen Jose solo, and in small rooms with a band. JOSE IS MEANT FOR ROOMS LIKE TOWER. With Alex Coleman, Alberto Roubert and Ryan Magnani in tow, the possibilities are sonically endless. The power of the group is not one to miss. I've heard snippets of their new recordings and I cannot wait for this line-up's upcoming album. It will compete with Oklahoma's best and I can only expect it to expand outward.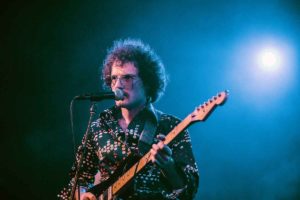 After the engaging opening set, it seemed the room's attention was set. Swim Fan, a deeply funky yet washy indie based act, switched the atmosphere on a dime. This less than a year-old project showed so much confidence. Especially in their well-executed outfits alone. If I had a mood ring on it would be perfectly black with a light hue of green. The band quickly filled the front tier of the room from the tip of the stage to the back of the first layer's rail. Predominately speaking to a younger crowd. The band featured deep psychedelic visuals fluently matching the sound. The band held the highlight of my night with Vonna Pearl's Saxophonist joining in for an unrehearsed version of Swim Fan's debut single "Crash." It fit snug tight in the mix and added a layer that gave just enough punch to take the tune to a new notch. Swim Fan typically kills DIY concerts. This night on a big stage had the same effect. Lead singer Spencer Powers has a unique way of drawing you into their sexy 70's tinged soft funk. I look forward to seeing this band continue to feed the younger indie scene here in town.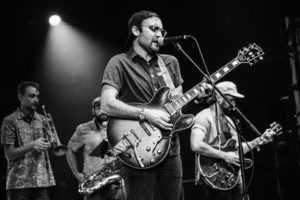 Where to start with Vonna Pearl. They remind me of my favorite movie of all time, The Band's Last Waltz. A stage packed full of Oklahoma's most well rounded writers, producers, and performers it's an inspiring time for musicians. The guitar interplay of Taylor Johnson and Chavez Soliz is baffling. These two are beyond credited. A great place to witness their magic is through international guitar pedal manufacturing company Walrus Audio's youtube page and the full band product demo's they compose. The male/female vocal harmonies of Johnson and Cope work so well with the rhythm section in this romp stomp Fleetwood Mac style. Johnson's stage banter and personality makes the show. Each member of this band is professionally talented and it's amazing what they are capable of together. Keep eyes on each member. You never know what is to come from each, but it is likely to be amazing.
If you attended this installment of the COOP Showcase I'm sure you can agree. There is a lot to come and plenty of room to grow for OKC's music community. This night was full of inspiring music comradery with the room predominantly local musicians out to support. SO, I Ask. Where can you see such hungry musicians grow? Where can you pay a small ticket price of 10 dollars to see an eclectic bill? How can you get involved? The answer comes with people like Tower Theatre and Oklahoma's multi-faceted entity OKSessions. Stay in tune with these pages. Follow local musicians. Share their content. Invite your friends to shows and get involved. Oklahoma is well worthy of being more noticed on the national music map. It all starts locally. Let's create big bands from small bands.