Kat Lock is hitting the ground running in her solo career. After playing in the band St. Basic for two years, Lock is now releasing her first single as a solo artist, and she couldn't be more excited to share it.
The new single "Hard to Find" launches Oct. 20 along with a release show at the Speakeasy.
Unlocking her Sound
Lock's music is described as indie-rock, and she gains influence from anything from Fleetwood Mac to Barbra Streisand to Rilo Kiley. Her new single is reminiscent of a nineties female-led rock group. Lock said Letters to Cleo is probably an apt comparison.
Lock wrote songs for St. Basic for years, but, when she started showing people her own songwriting, they encouraged her to go solo. "Hard to Find" was the first song she showed anyone, and she received immediate encouragement to record the song.
You can read more about her "witchy" songwriting process, the ironic start of her music career, and her decision to go solo in Lock's OkSessions artist profile.
"Hard to Find" – A Honeymoon Anthem
"Hard to Find" deals with a subject Lock doesn't normally write about – Love. Well, sentimental love at least. Lock said she's written love songs before, but they usually turn bitter at some point. However, "Hard to Find" is more reflective and admirative.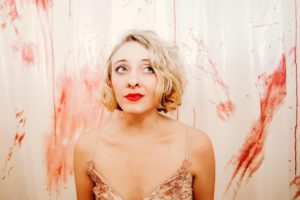 "It's very much a honey-moon phase song, in that first three months or so where you're just like falling so hard," Lock said. "I am a Scorpio, and I fall real hard and fast, and it was the first time I've ever really met someone who was just on that level with me."
Lock wrote the song for her boyfriend at the time who was also a songwriter. The song felt very personal to her.
She previewed "Hard to Find" on the podcast "Babe?" with her friend Lara Marie Schoenhals.
Behind the Scenes
Lock said "Hard to Find" was one of her favorite songs she's ever written. When she wrote the song, she had a certain sound in mind, and, when she heard the finished version, it sounded exactly like she had envisioned.
"I had so much control in it," Lock said. "It was the first time I constructed a song in that way, and I'm really happy about it. It sounds exactly like what I heard in my head."
Lock said her favorite thing about the single is that people have told her it doesn't sound like anything else. It's just simply the Kat Lock sound.
Johnny Manchild (of Johnny Manchild and the Poor Bastards) helped Lock produce the single and played rhythm guitar and drums. Matt Swan (of St. Basic) played lead guitar, and Matt Ellis (also of St. Basic) played bass. Lock said her live band will be made up of the same people with the exception of Dakota Green on drums.
The "Hard to Find" release show is Saturday, Oct. 20 with GWIZ, Ben Quad, and Bad Jokes. Doors open at 9 p.m., and there is a $3 cover charge.
Below – Lock created a promo video with Jacob Rhinehart from Ben Quad.