Bryce Merritt is living the dream, making music in Nashville, Tennessee and touring regionally. But he hasn't forgotten his Oklahoma roots. Merritt will be returningNov. 3 to play a show at Tower Theatre alongside blues-rock band KALO.
We chatted with him about growing up in Edmond, the development of his music, his background singing covers, and his color-focused EP series.
Oklahoma Roots
Merritt grew up in Edmond, Oklahoma in a sports-centric family, but his passion lied in singing and playing piano. His parents weren't sure how to handle it, but they encouraged his musical interests.
"Growing up in a sports background, I learned how important it is to get better at something," Merritt said. "I think a lot of people have this idea that you're born with music talent, but it's just like a sport and just like a muscle and learning how to kick a soccer ball or shoot a basketball. It's learning how to hone that craft and practice every day."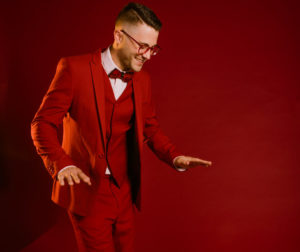 Merritt's parents gave him freedom to explore music.
"My parents didn't know what direction to push me in," he said. "If I said I wanted to do something, they just said 'sure.' They didn't have any real expert advice one way or another, so they let me explore my own path from a young age. For me, it allowed me to find sounds and music that I loved."
From a young age, Merritt was complimented on his voice, but senior year of high school, people took notice of his songwriting as well.
"People were liking the whole package as opposed to just 'oh you can sing this Michael Buble song really well,'" Merritt said. "It was 'hey I've liked this thing you've created,' and that was really what encouraged me to run with this and what gives me strength and encourages me. That's what made me want to move to Nashville."
Merritt graduated from Edmond Memorial High School in 2010 and attended Drury University in Springfield, Missouri, where he studied architecture. It was during that time that he started writing and getting in touch with the artistic side of his musical talent.
Through the encouragement of family and peers, he decided to pursue his dream. He moved to Nashville to attend Belmont University. His wife and musical partner, Bethany, attended Belmont and sold him on the musical environment of the school. Merritt said it sounded like a dream come true, so he transferred and finished his degree in 2014.
Getting in the Groove
Merritt describes his music as "soul-infused pop." Many people have compared him to Justin Timberlake and John Mayer, which he said he takes as the highest praise. His goal is to make his music fun and "groove-based" but also sentimental.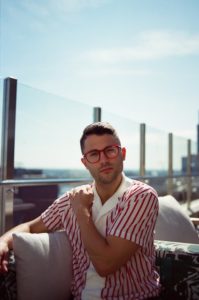 While Merritt studied at Belmont, he was finding his own style of music. He quickly learned that people who didn't know his music needed a reason to listen. So he recorded pop covers like "Cheerleader" and "Let Me Love You."
"I made the songs as 'Bryce' as possible," he said. "I'm giving them a little bit of something that they know and a little bit of my own sound as well, and hopefully I can thread them into my own music."
Merritt said he still loves to create his original music, but he understands that it's hard to get into new artists. That being said, Merritt still performs covers in his live shows on occasion.
Elementary School Sweethearts
Some of Merritt's new music deals with the subject of love, which has been very simple for Merritt, but also very important.
He and his wife, Bethany, have known each other since 1st grade.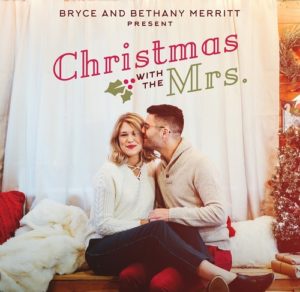 Bethany Merritt is also a musician, and, when her schedule allows, she goes on the road with her husband. He said this makes the tour a million times better. They also do a Christmas show called "Christmas with the Mrs." together. Bryce Merritt said he and his
wife will perform together at the Nov. 3 show.
The pair married in 2015 and then moved to Colorado, where Bethany Merritt pursued her Masters in Jazz.
Once she graduated, the couple moved to Nashville, which was always the end goal for them.
CHROMA
For the past couple years, Merritt has been working on a project he calls "CHROMA," a series of EPs centered around different colors. CHROMA: I (2016) is green. CHROMA: II (2017) is blue. And CHROMA: III (to be released Oct. 26) is red.
Merritt has a couple different reasons for organizing things in this way, but what it really boils down to is that this is what makes sense to him.
"I've always been a little bit type-A musician," Merritt said. "I know a lot of musicians are stereotyped for being super left-brained and super artistic and unorganized. I'm very type A. I love organization. I love logistics and things like that."
He said he could imagine people hearing something different or associating different songs with different colors, but that's just how he felt to him.
"I've always loved color," Merritt said. "I like wearing colorful clothing. I'm not very much like a black and white person. My wife and I's home is very colorful. We just like color a lot.So I thought it was kind of a cool opportunity to bring all of that together and I thought it would give me an opportunity to organize my songs by the colors that I saw them as."
He also said the color-themed EPs give him a chance to wear fun colors in his clothing, and it gives him a more consistent and organized way to release new music so that he doesn't have to take as much time off.
"It's kind of a way to keep the engine moving and keep people hyped," he said. "I'm hoping the fans that discover me around CHROMA III will feel connected enough to want to go back and read chapters 1 and 2. I've had a lot of fun with it. It's been a blast for me. I think the fans have enjoyed it as well. But, at least for my own self, it's everything I've wanted it to be."
His newest EP is red-themed. But it's not necessarily what you'd expect. Merritt said many people associated red with anger, which isn't how he feels.
"That's the furthest thing from anything I've experienced in my music, much less me as a person. So I've kind of found out what feels red to me," he said.
To him, red means sweetness, like red candies or strawberries. It means love and intensity. He also wrote a song in Nashville called "Brother," which includes the metaphor of a "blood brother." This imagery made its way into the red EP. To Merritt, red is more than a color – it's a sensory experience, bringing up all sorts of emotions.
He mentioned the idea of synesthesia, a condition in which people see colors when they hear music. Although Merritt made it clear that he doesn't have this condition, he does find it fascinating and identifies with the experience.
"For me, CHROMA is about trying to cast the different shades about what each color could possibly bring to the table," Merritt said. "I wanted to get all of the color spectrum in there when it came to each individual color."
During the producing process, there were some songs Merritt put together and decided they didn't feel "red" to him, so he saved them for a later EP.
"Listening to it now, I'm really pleased with what came of it," he said. "It all feels very red to me, and I hope others feel that as well."
The Homecoming Show
Merritt will be playing Nov. 3 at Tower Theatre alongside KALO. To him, this feels like a hometown show.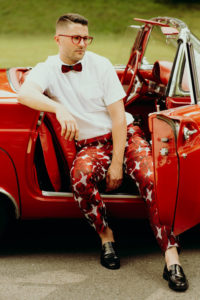 "Oklahoma has always been a homebase for me. My family lives there. It's always fun to return to my roots," Merritt said. "As far as this show in particular, it's a pretty big step up for me."
He said he's particularly excited to play at the Tower Theatre because of the beauty of the venue itself and its size. He's also excited to watch KALO play.
"I'm excited for people to hear the music, and I'm excited to wear my new suit," he said.
The Touring Life
Merritt opened up about the touring life and the ups and downs that go along with it.
There are some nights that Merritt is so excited to play shows that he can't sleep at night.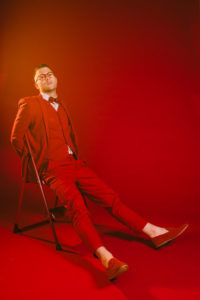 "Touring is wonderful, and it's a blast getting to go to all of these different cities and see all these different corners of the country," Merritt said. "At the same time, it is incredibly exhausting, all the different flights and car rides, and there's a lot of downtime during the day that I feel like people don't see as much."
Merritt is an extrovert, which means being by himself doesn'tparticularly energize him. He ends up spending a lot of time alone in the car or at the airport, so his performances allow the extravert in him to recharge and do it all over again.
"It can be pretty draining, but the shows each night are kind of like the energizer to get through the next day," he said.
You can experience Merritt's soul-infused/pop sound at Tower Theatre Nov. 3, and his newest color-themed EP will be released on Friday, Oct. 26.