Everything Kat Lock does starts ironically. This includes her musical career.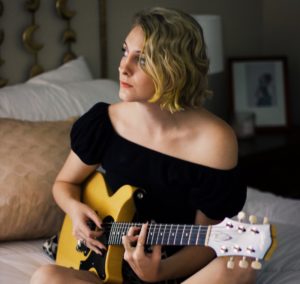 After training classically in Broadway and Opera, Lock was the only one of her friends who didn't play an instrument. One day, when Lock was 18, a friend of hers (Ian Burns from GWIZ) thought it would be funny to teach her one song on guitar – "Hey Ya" by Outkast.
She picked it up pretty quickly, so Burns recommended she take his guitar home and learn more. The second song she learned? "Bye Bye Little Sebastian" from Parks and Rec.
This was the beginning of her music career.
The origin of St. Basic
St. Basic writes in their bio, "Smash Mouth retweeted us." And that's a pretty solid description of their music.
"Everything in my life starts as a joke. Even St. Basic started as a joke," Lock said. "I just started learning how to play guitar, and somehow I figured out I could write songs."
St. Basic began when Lock and her friend Sam Wegrzynski joked that they should start a band and gradually added people in.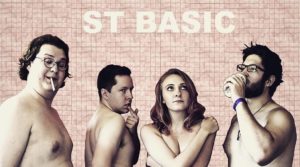 They met their drummer, Jack Martin, after watching him play guitar in a friend's band. Wegrzynski and Lock showed him their music, and Martin wanted to join. Lock responded by sarcastically asking if he also played drums. Turns out he does, so that's how they found a drummer.
"It started more as a meme than anything," Lock said. "That was just how the band formed, like 'yeah sure whatever.' And then we covered "All Star" for like a year. Now, 2,000 spotify plays later, it's a real thing."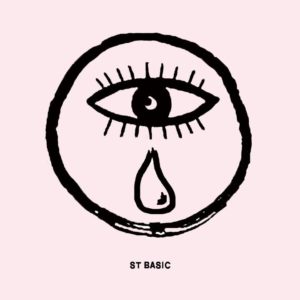 While Lock was playing in St. Basic, she was still learning how to be a musician, new to songwriting and playing instruments. But the band still gathered a decent following.
"Our first song is three chords because, when I wrote that song, I only knew three chords," Lock said."It was G,C, and A minor. That's all you need for a hit song."
St. Basic and other local indie bands can be found on the OkSessions Indie spotify playlist.
Lock played with St. Basic for two years before the band decided to go on hiatus, and now Lock is branching out with her own solo material. She's finding more vulnerability in her lyrics and focusing a little less on irony and meme culture, which has been a bit of an adjustment.
Going Solo
Lock began writing her own material, and she presented it to her band members, who encouraged her to go solo.
"I showed Sam one of my songs, and he said 'that's really good,' and he told me 'keep that song for your solo album,' and so I did," Lock said. "I didn't realize until I brought those songs out, they're way more personal, way more emotional."
Lock said her songs havemore vulnerability and vulgarity now that she's writing for just herself.
"I don't hold back," Lock said. "This is just me doing whatever the fuck I want."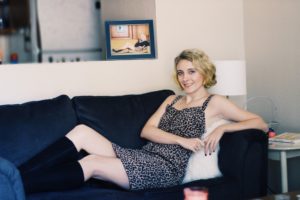 She played a solo show opening for the Bad Bad Hats at 89th St. Collective, and she said her friends knew what each of the songs were written about.
"I'm not writing for anyone anymore," Lock said. "I was writing songs for St. basic, and I love writing St. Basic songs, but these new songs were just so emotional because I just wanted to write a song."
Now, Lock is working on releasing her first solo album, and she's learning a lot of lessons along the way.
"St. Basic taught me to trust myself musically, something I have always been scared to do, and sometimes I still hesitate," Lock said. "This album and this time of my life is about trusting myself and putting that self out there."
Rockin' and Rollin: The Kat Lock Sound
Lock describes her music as indie rock, mostly because it's an all-encompassing term, and she takes inspiration from several artists like Fiona Apple, Mitski, and Barbra Streisand.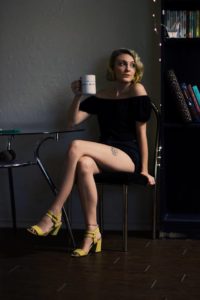 Her biggest inspiration, though, is Jenny Lewis, lead singer of Rilo Kiley.
Lewis broke off to do her own solo material and joined some other projects like a duo with her boyfriend called Jenny and Johnny and a collaboration project with the Watson twins, among many others. Lock said she looks up to Lewis not only creatively, but she admires her career path.
She also said she takes a lot of pride whenever her sound is compared to Lewis's.
Even though Lock's songs sometimes don't fit a specific sound, she said all her lyrics are unique to her.
"I couldn't write a song that didn't sound like me," Lock said. "My lyrics are always weird. I wouldn't say I sound like Jenny Lewis, but I would say you can tell that I listen to her, and that's what i'm going for."
Gettin' Witchy
When Lock writes music, she likes to "get witchy," and there's usually candles or crystals involved.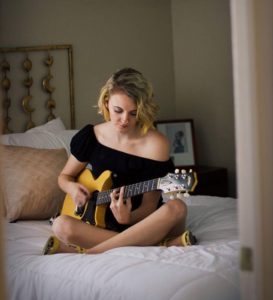 "If you want the scene for a lot of these songs, it's me on my bed with my dog and my guitar, crying," Lock said. "That's a lot of what it is, or just like me at a piano just kind of punching it and wishing I were better at piano."
She said many of her best songs come from anger or anxiety, at the height of emotion. She often writes down her feelings and turns them into songs later. She also said hearing live music often inspires her songwriting, as does sitting on planes.
"When you're in a panic attack and your thoughts aren't making sense, well, I'm a writer. That's what I do," Lock said. "I'm a writer before I'm much else. So I just kind of let out the nonsense, and then I turn it into something."
A Look Into Lock's Writing Career
In her freetime, Lock writes comedy television recaps for Trash Talk TV, and she's written a couple of viral Buzzfeed Articles, including the quiz "Who Said It: Donald Trump or Lucille Bluth."
For her writing, she often reviews shows on Bravo and shares her passionate feelings about the Real Housewives.
"Real Housewives of New York is the best show on television, and I know you can quote me on that," Lock said. "I'm not afraid to say it."
Big Things Comin'
Lock is currently creating her first solo album with the help of Jonathan Garrett (Johnny Manchild) and Gian Archiniaco at Skyloft Recording studios. Lock said she's excited to work with Garrett because they've known each other for a long time.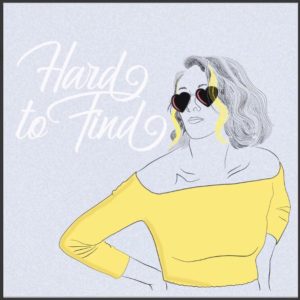 "He's one of the first people I ever showed my music to," she said. "He's one of the first people who ever told me to start a band, and he's the one who told me to do a solo album."
Lock said Garrett has been encouraging through the process, and he's helping play different instruments on the track.
She said, because they've known each other for a while, he's watched her music develop and understands her style and what she's going for. Lock said the first single, "Hard to Find," will drop in October.
Lock will be playing at the Art Beyond the Glass event at 4 p.m. on Sunday at the 51st St. Speakeasy and at the Blue Note Oct. 5