You're probably used to seeing "Guestroom Records" stickers on every laptop and car around the city, but you might not know about the unique history behind the store. Guestroom is celebrating 15 years of business this weekend, and they're hosting a party to celebrate.
The company began with Justin Sowers and Travis Searle in 2003 with the addition of Will Muir around 2006. They've grown a ton as a company, but they're sticking to their DIY roots and bringing music to the people in Oklahoma.
"We're really thankful to all of our customers and the continued support we get from them every day," Sowers said. "And we'll keep trying to get bigger and better and have more good records for you guys to buy."
Come Join the Party
Guestroom is celebrating their 15-year-anniversary Friday, Sept. 14, starting at 6:30 p.m. at their Norman location. There will be free beer from Coop Ale Works, and everything in both stores is 15 percent off. Door prizes will be announced on Guestroom's Instagram. They're also hosting a concert during that time. Bad Athlete, Oh Johnny! Girls, Kyle Reid, and Net will perform.
Then, on September 15th starting at 2 p.m., 11 acts will perform – Laine, Anvil Salute, Locust Avenue, LCG & the X, Weak Knees, Early Beat, Black Magnet, Travis Linville, Tyson Meade, King Country, and Helen Kelter Skelter.
"There should be plenty of stuff to do at the record store this weekend," Sowers said. "It's gonna be fun."
Check out Other Lives performing at Guestroom in 2011 below!
Guestroom's DIY Roots
Guestroom's mission statement is "getting good music to the people who want it."
Sowers and Searle met living in the dorms at OU, bonded over their shared music fanaticism, and worked up the business plan for Guestroom while driving pizza for Pizza Shuttle. Sowers said he decided at the age of fifteen that he wanted to open a record store, and Searle shared his vision.
"It was taking a leap of faith, really, doing what we wanted to do," Sowers said. "t's a lot easier to do that when you're 21, but I'm glad we did it, and I couldn't have done it without Travis, for sure."
Before Guestroom became a legitimate record shop, it was a door-to-door vinyl distribution company. Searle and Sowers pooled a couple hundred dollars together and traveled around to friends' houseswith tubs of punk and indie records. They did this for 18 months before they moved on to garage sales at Sowers' college house.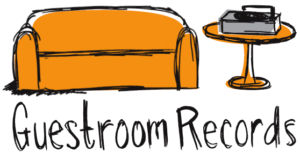 Their future neighbors from the Opolis and Future Forwards informed Sowers and Searle that there was a 1000 sq ft shop open next to the Opolis on Crawford Avenue. At that time, the last two independent shops in Norman (Shadowplay and CD Zone) had closed, which meant there wasn't a place to buy records in Norman.
"We picked a good time to do it," Sowers said.
Sowers and Searle checked out the abandoned auto garage and opened their first shop in July of 2003 at 119 N. Crawford.
Sowers said he's proud of the locations they were given.
"We got very lucky that our locations came up, and we were able to afford them," Sowers said. "We're really nice to our landlords. We want to stay."
They started fixing up the shop, painted all the walls blue, and had friends and family pitch in to build racks and a counter. They also put up a wall to create a backroom, assuming they wouldn't have enough money to afford housing, so they'd just live in the back of the shop. Thus, the name "Guestroom" was born, Luckily, the owners never actually had to sleep back there.
"The space was cozy, smelly and wholly unable to keep clean with decades worth of motor oil in the floors," Searle said. "I have some lovely memories from that shop."
Sowers and Searle put their entire personal music collections into the shop as an opening used stock (1200 LPS and 400 CDs from Sowers and 1500 CDs and 400 LPs from Searle).
"It was painful to part with our sizable collections, but we knew that we needed to make a splash with a ton of good used product to open," Sowers said.
Searle said the store was the perfect opportunity for them. With little competition, they were able to grow.
Guestroom moved from the Crawford St. store to their current location at 125 E. Main Street in the late summer of 2005. The original 6000-piece inventory has grown to nearly 90,000 pieces, 75 percent of which is vinyl, according to an article from the Red Dirt Report.
Make sure to check out the video from our friends at Discover Oklahoma about Guestroom!
Making the Move to OKC
Sowers and Searle both moved to Northwest OKC in 2006, and they were commuting to the Norman location every day. Sowers said he was driving one day and noticed that a building on 36th and Western was for rent. They signed a lease on the building the next day.
They had spoken for years about opening a shop in OKC, and their inventory was quickly expanding, so the location and timing were perfect. It took about a month to get the shop fixed up, and they took out a loan to make new stock orders.
From then, Guestroom has been a staple in the OKC music scene and has now been around for 15 years.
"I'm still a little surprised, I guess," Sowers said. "I expected I would be teaching high school history by now."
Watch below for a video of Oklahoma City artist Jabee performing at Guestroom in 2016.
Getting the Record Label/Movin' Forward
Soon after, the team started a record label.
On the Guestroom website, Searle said, "there was and still is so much quality music being produced around Oklahoma."
A deciding factor to start the label was the release of the Starlight Mints final album "Change Remains." Their label wasn't going to issue iron vinyl, which was the shop's dominant product.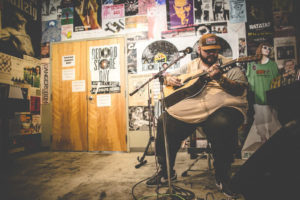 So, Guestroom hosted the band in OKC for the album release show and sold a fair amount of the records. Since then, they've put out about a dozen releases from their musician friends. Searle said the label is a labor of love rather than a business venture.
"It has always been my hope that with our releases, the bands might be exposed to greater awareness nationwide with the opportunity to make a larger impact than solely on their local scene," Searle said.
Will Muir, who manages the Norman location, said creating the label was about building the scene. At the time, he wrote a music blog and recorded a weekly podcast, and he realized there was no indie label documenting the Oklahoma City and Norman scene, so they decided to work with The Starlight Mints on their project.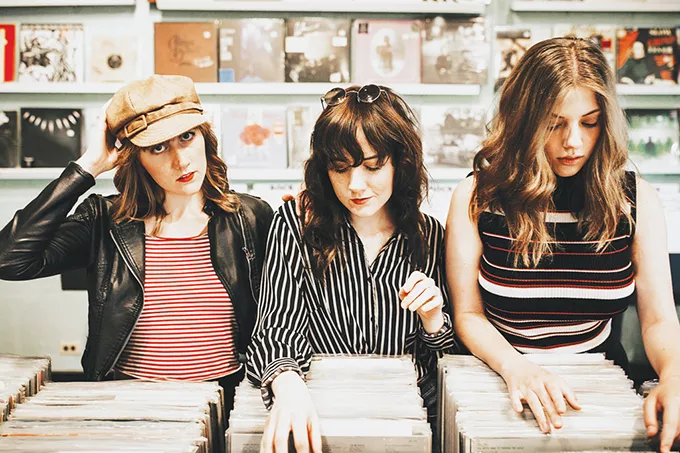 "It's always fun to be a part of the music scene, and we're a place where local artists can come sell their records or CDs and hang their posters," Sowers said. "We like to be a hub for local musicians, and we have release shows and those sorts of things."
Guestroom's next project was opening a location in Bricktown in the ACM@UCO building in 2011. That location closed and moved to Louisville, Kentucky, according to Guestroom's website.
Guestroom records started as an opportunity for two guys to bring music to people.
"I like going to work," Sowers said. "I like selling records, and you never know every day who's going to walk through the door."
Now, they're celebrating 15 years as a company, taking pride in their DIY roots and their growth as an essential part of the Oklahoma music scene.