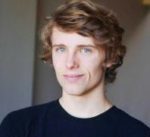 This is a contributed post from aspiring artist/writer Thomas Massenat. We love our contributors. If you are interested in guest posting for OkSessions, please email us! hello@oksessions.com…
I'm at the beginning of my directing career, and I'm not an expert, but I made a video I'm proud of, and I have learned a few tricks, and I'm happy to share them with you.
So much that went into my video for Skating Polly's "Little Girl Blue and the Battle Envy," from their new LP, "The Make it All Show," was due to the collaboration process, a willing producer (Matt Messer head of El Camino Media), and a beautiful found location. What I learned, though, is this – plan what you can, be flexible, be cool, and be resilient.
First, Consider This: Plan What You Can
I learned that I would be directing a music video about a month before the shoot. I was initially heading to Tacoma, Washington, home to band Skating Polly, as a personal vacation. I've known the members of the band since childhood, and we'd talked about collaborating this summer. We decided our time would be better spent if we shot a quickie over spring break without a budget, and another over summer vacation with better funding. I had limited time, little space for equipment on the plane ride, and a small production budget.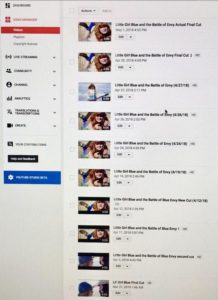 When I arrived, we had to plan a majority of the shoot. I hadn't the faintest idea where the video would be set, what the costumes would look like, or if two days would really be enough time to shoot an entire video. I did have a detailed breakdown of action with accompanying lyrics and shots, and, of course, my camera. All this stuff was up in the air. All I could do was go with the flow and make the best choices, as they occurred. The first three days were spent earnestly bringing the elements together. We were out of the house early daily to shop for costumes, contact boat and couch owners on Craigslist, and other pre-production essentials. When you're limited on time to prepare a shoot, you have to keep an open mind as to what your production style might end up being.
Stay focused on checking the essentials off your mental checklist: The actors need costumes, you need a location, and you need a game plane as soon as possible. You have pre-production, production, and post-production. Before you go into pre-production, you need a script. I treated my breakdown of the video as such. I wrote it as I saw it in my mind, knowing what my potential location might look like, and what set pieces I could realistically use. Stay grounded in reality when you know the project is low budget, and the pressure is on to have a releasable video.
A great amount of freedom is presented without a crew. Improvisations and whims of fancy bred some of the finest shots and actions of my video. I only felt comfortable improvising, however, because I had my breakdown as a guide. I knew what scenes were being shot that day, and I made a mental checklist of shots necessary for each sequence: close up of Kelli singing her lyrics, establishing shot of the action, close up of other band mates if involved in sequence. Once I satisfied this basic strategy, I allowed myself to cut loose. This was thrilling because I was able to create images I could have never imagined in my mind's eye.
Second, Consider This: Be Flexible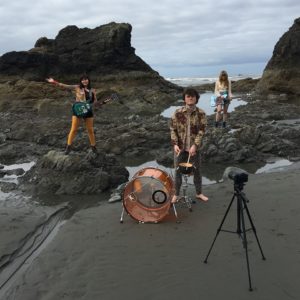 Our initial plan was to shoot at Ruby Beach, four hours from Tacoma. Due to limited space in our van, we couldn't take both the instruments and the couch. The boat was towed in a borrowed truck. Due to these restraints we added a second location, Point Defiance Beach, only a fifteen-minute trek. We sacrificed aesthetic on the Point Defiance shots, but got to use the set piece we wanted. A third day of shooting was added, and, to make the day, we woke up at 2:00 a.m. Compromise was a constant, and the only thing we could rely on was that things would be unreliable.
Third, Consider This: Be Cool
Go with ideas that make sense to you. As a creative director, your primary objective, according to the trailer for Ron Howard's Masterclass, is to be the chief editor of ideas. I like this frame of mind, because it implies that filmmaking is and should be a collaborative process. It's much easier to hear someone out, and decide (politely) whether or not their idea flows, than to keep an iron grip on your initial idea. Good ideas are like pornography: the Supreme Court couldn't define it, but they knew it when they saw it. Be like the Supreme Court.
Feel secure in your ability to know your own truth. It's possible that someone else may have the idea in their mind which will take your project to the next level. If it fits in the bigger picture, and it's a better idea than yours, use it. Don't let your ego stand in the way of making your project the best it can be.
Fourth, Consider This: Be Resilient
The parking lot for Ruby Beach is a quarter mile from the water. To reach it, you have to hike a narrow trail down a sharp incline, and traverse 200 feet of washed up redwoods, crisscrossed, a naturally occuring jungle gym. Over these obstacles we carried a 8-foot rowboat, and musical equipment. Our shoot days were grueling, from the moment we arrived, until the sun set. I cannot commend the members of Skating Polly enough for their commitment to making my shots. Their rugged determination to performing at all costs was a godsend: They were my subjects, and PAs. We went through some shit together.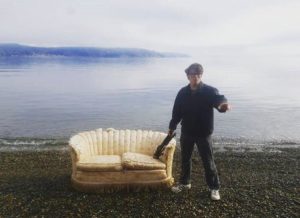 We were in the process of shooting a montage on a couch we'd set in the shallow surf. Kelli was laying on her back, singing into the camera, when a man with a wiry black beard interrupted my take. He made for the couch like he was going to jump on it. Kurtis, drummer, brother to Kelli, intercepted him. The guy threatened Kurtis wildy, and seemed intoxicated. Kurtis was wearing cheetah print tights and a blouse, but still managed to intimidate the guy into leaving. It was pretty badass. The entire ordeal was upsetting and set our schedule back. I'm proud of the way Kelli jumped right back into shooting. We made the day.
Last, Consider This: Do it For the Fat Lady
A book I've grown madly fond of is "Franny and Zooey" by J.D. Salinger. Wes Anderson loosely based "The Royal Tenenbaums" off of it, and it does have a cinematic feel to it. Perhaps that's from where my attachment stems. It also has some terrific advice for a young person who isn't sure what they want from life. The characters are from a family of geniuses, as children they competed on a radio show similar to jeopardy. If I remember correctly, one of the children didn't want to shine their shoes before going on the show. What was the point? No one could see his shoes anyway. His older brother told him to do it for the fat lady listening at home. The book has religious themes, and the fat lady is metaphor for God. Zooey says it himself.
The book ends with a series of quotes hanging on the children's dead brother's wall. They're philosophical and often religious. I've misplaced my copy of the book, but, to paraphrase, some people do every single thing as if God is personally micromanaging it. To quote the book directly, "an artist's only concern is to shoot for some kind of perfection, and on his own terms, not anyone else's."
The spirit of the book is basically this: If you're going to do something, then f*cking do it. Like the Confucius quote, "Wherever you go, go with all your heart."
Commit to your craft, work your ass off, get better at it. 'Cause you only live once. So whatever you do, do it for the fat lady.