When you walk through the doors of The Trolley Stop Record Shop, you're greeted by an immense collection of classic records. The shop has a warm and inviting feel to it that only a good record shop can have. You know what I'm talking about; the look, the smell, the sounds. Trolley Stop has it all. The shop itself is one large room shaped kind of like a barn with a high ceiling and wide floor. Each side of the room has five large containers holding hundreds of records each, and each of the side walls has shelves of even more records. Needless to say, with so much music within the walls of the Trolley Stop Record Shop, there really was no better place to hold the first OKC Indie Sessions.
The night started off with OKC based band Mad Honey taking the stage. Unfortunately, I wasn't able to make it in time to see Mad Honey's set, and I'm really disappointed about that. But, from what I've heard, it was amazing! If you haven't heard their music, you should give it a listen. They're most recent single, "Blue & You", is a cool-sounding, 80's inspired track with a groovy bass line and wonderfully reverberated guitars. I absolutely love the vibe of this song. It reminds me of something that you might hear in Stranger Things. While you're at it, check out their other two songs on Spotify: "Cruel to Know" and "Carole's Slumber Party." You'll be glad you did.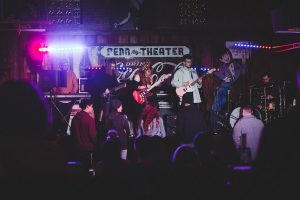 Next up was Ft. Worth-based pop/rock band McAllister. Fronted by singer Ty McAllister, the band's set was high energy. I mean, really high energy. From the first beat, Ty was jumping all over the stage singing his heart out. It's important to note here that Ty is an incredibly gifted singer. His voice fits the music that the band makes so perfectly. This isn't to disregard to rest of the band though. No, quite the opposite. Their show at the record shop was one of the tightest I've seen in a while. That night they played a brand new song titled "Come Back Home." The chorus says, "I'll wait for you to come back home. I'll wait for you to come back, run into my arms. I'll wait for you to come back home. I'll wait for you to come back, closer to my heart." It's a powerful song and one I've had on repeat lately. Check it out! All in all, my expectations were far exceeded with McAllister and I look forward to seeing them play again soon.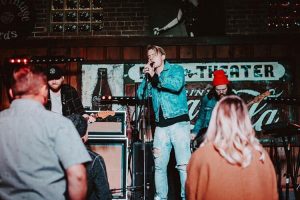 Headlining the evening was OKC-based band Cavern Company. Like McAllister, their set was also high energy. If you've seen Cavern Company live, you know what I'm talking about. They started off their set with a brand new song not yet released titled "Rising Tide," and from there went into their 2018 release "Body Language." After the first two songs, I knew that CavernCompany takes their live show very seriously. They're incredibly tight, transitions were quick and smooth, and the setlist itself was well thought-out. Even more important than those things, when you watch the guys in Cavern Company play, you can see their passion for what they're doing. It's so evident in the way they move on stage, the way they look at each other when one of the others plays a cool part, and the way that they interact with the audience. Watching someone do something they're passionate about is inspiring, and I was inspired that night.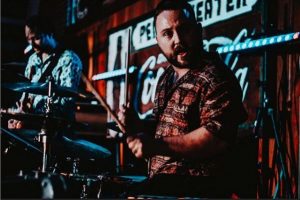 Their set also included songs from their 2017 release "Tension" as well as 2018 single "Enough?" To conclude the evening they went into the song "Falling," which, at the time of this writing, has over 33,000 streams on Spotify. "Falling" is a fun, upbeat tune with a super catchy chorus that says, "hey, listen close can you tell, What we're ready for ready? Whispering don't you go, can you tell what we're ready for mi amor (my love)?" I love the song. It's another one I've had on repeat lately. After the song ended and Zach said "thank you" to the audience, the crowd still wanted more and thus the "One more song! One more song! One more song!" chant began. Guitarist Kolby Yarbrough then finished the night off with "Dancing in the Dark." This was my first time to see Cavern Company live, but it definitely won't be the last. Their show is fun, high energy and one that everyone in OKC should see.
Join us for the next Indie Sessions on Friday, May 3rd featuring Grant Adams, Chase Kerby, and Ft. Worth singer songwriter Matthew McNeal.