Saints Bar and Lounge in the Plaza District of OKC gained notoriety in 2017 as a Jazz Venue, but it is so much more. Hip-hop, Acoustic, R&B, Neo-soul, along with a great menu and wonderful people. Whether you're out for date night or a soul-shifting experience Saints, and the musicians they feature, thrive on intimate performances. Saints sits center-stage in the Plaza, one of OKC's most celebrated neighborhoods. It's a cool venue that works hard to please and never disappoints. Let's get into thier schedule.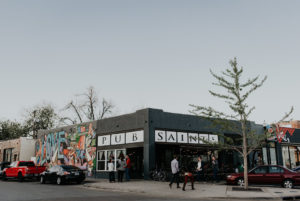 Mondays – Hip-hop and Neo-soul at 9 p.m.
Saints features Hip Hop and Neo-soul nearly every Monday.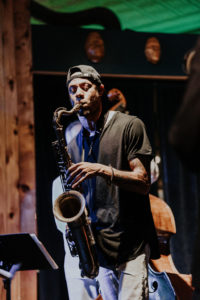 Neo-soul artists like Elizabeth Speegle and Spunk Adams often take the stage to work the room into an improvisational maelstrom of rhythm and musical colors. Neo-soul is one of several jazz-derived genres that boils with energy when it's hot, and feels so, so good when it's cool and groovy. Watching musicians pass the baton and interact on stage is what really makes neo-soul at Saints an experience you tell your friends about.
Hip-hop takes on a completely different vibe in a small room. Lyricist Lounge every 4th Monday is a collaborative celebration of OKC's numerous hip-hop communities. Lyricist Lounge is the brainchild of Original Flow, who hosts the event. Flow invites a new lineup of emcees, hip-hop bands, and poets month after month. Original Flow often headlines other Mondays with his Experimental hip-hop group, The Fervent Route.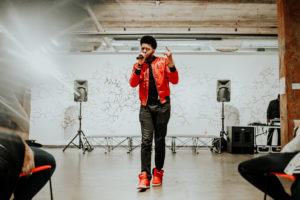 Tuesdays – Trivia at 7 p.m.
Gears get turned Tuesdays as Challenge Entertainment hosts Trivia. Swing in with your A-team before 7 p.m. to go head-to-head (to-head-to-head) with your competitors. Trivia includes multiple rounds of questions on various subjects, a chance to request songs from the DJ between questions, and plenty of witty banter from the host. Of course, there are prizes for winners and beer for everyone.
Wednesdays – Acoustic at 8 p.m.
Six-string slingers, fiddlers, singer-songwriters, Celtic enthusiasts, soft-rockers, blazing bluegrassers, folky-bards, upright bass-pullers, stories of love lost and found. The umbrella that is acoustic music is broad and beautiful.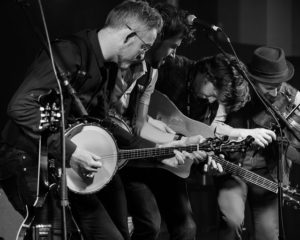 First Wednesdays feature Celtic music, curated by the Celtic House Sessions. From the Flowers of Edinburgh to come-one come-all Irish Jams, first Wednesdays bring traditional tunes from the old world.
Second Wednesdays are a benefit night for Rock and Roll Camp for Girls. OKC heavy-hitter Carter Sampson lines up stellar bands to raise money for a stellar local nonprofit. Carter herself may even grace the room with a song, and that by itself is reason to be there. The benefit does not include a cover charge, but the audience gives as the spirit moves them.
Other Wednesdays feature various OKC acoustic artists. From Jose Hernandez to Erik the Viking, Wednesdays are great chance to get familiar with one of OKC's most talented musical communities.
Thursdays – Real, straight-ahead Jazz at 8 p.m.
Far, far away from smooth jazz and 'muzak' lives the authentic jazz heard at Saint's. They have fast become OKC hotpot, and ground zero for practitioners of the craft. TheNYC vibe with an OKC twist.
First Thursday "Saints Sessions" are considered themain event,and a great way to get familiar with the scene. Saints Sessions highlight a local Featured Artist who hand-selects their House Band. It is Emceed by the charismatic Chanda Graham, a powerhouse jazz/blues vocalist who sits in with the band on occasion.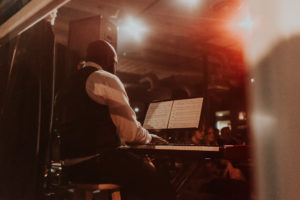 Third Thursday feature the Adam Ledbetter Trio(the AL3 for short.) Pianist Adam Ledbetter is one of OKC's most influential jazz musicians, credited with helping launch the scene here and mentoring and inspiring many of the players in town. If Adam isn't on tour with Adam and Kizzie or filling in for other Ropeadope bands on the road, you can catch his group in the middle of the month as they explore iconic jazz repertoire.
Other Thursdays feature various local combos bringing styles from gypsy jazz to bebop.
Weekend Featured Sessions – Big nights start at 9 p.m.
By far the most exciting time at Saints is it's weekend Sessions. Saints' weekend spots feature anticipated appearances for local and touring artists. OkSessions curates headliners from various genres and backgrounds. Check the OkSessions's calendar to see if it's a local jazz giant like Jeremy Thomas Quartet or a rocking R&B artist like Tony Foster Jr.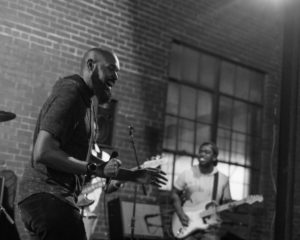 More and more touring bands are making appearances here as they pass through town so keep an eye on the calendar. Rather than see these artists in a large venue, you get the exclusive, face-to-face experience; up close and in your ear. It's worth noting also that the Saint's menu is not to be missed. I don't know anywhere else in town to enjoy this good of food while sitting ringside to the greatest artists in town.
Get into Music at Saints
Saints is one of OKC's premier live music venues. It's not a concert hall, it's a room. The lineup is as diverse as the people that go there. Get hooked into the OkSessions Calendar to see all their shows, and learn more about Saints on their website and Facebook page.