Ska is a unique genre of music, and (at the risk of sounding too hipstery) not a lot of people know about it. However, the Oklahoma ska scene is actually fantastic, so we would like to take the time to introduce you to some of the bands.
What is ska?
Ska is a blend of reggae and punk with brass instrumentals. It gained popularity in the '70s with bands like the Specials, and then the third wave of ska hit with popular bands like Streetlight Manifesto, the Aquabats, and the Toasters, among others. Some people joke that "ska is dead," but the scene is very much alive in Oklahoma, even if not a ton of people know about it.
The Big News
The Big News is a ska band based out of Norman, Oklahoma. They have two full-length albums ("Have you heard?" and "Welcome to the Weird Kids' Table"), and they've opened for huge ska bands like Voodoo Glow Skulls, the Interrupters, Reel Big Fish, and Less than Jake.
Lead singer and guitarist Jacob Niceley met bassist Logan Pierce at 89th Street Collective, which was then called the Conservatory. In 2015, they added trombone player Daniel Lewis and drummer Jon Jackson. Ryne Whitehead joined the band in 2016 as the trumpet player.
"We go on the road a lot, just about every weekend, and I think there's a lot to be proud of here. I think we can make it even better, but I think we have a lot to be proud of right now. – Jacob Niceley
The band says their goal is to create "new generation hungry for the truth in this convoluted and sick political world and usher in a new generation of show goers who welcome compassion, love and understanding for all peoples."
Jackson said encouraging local bands is especially important because "we all started somewhere." He said he feels encouraged when people show up to shows and support their band.
"When people see bands like Green Day or Paramore or Operation Ivy or 21 Pilots, they had to start from somewhere," Jackson said. "They had to gain a fanbase and support from somewhere, and that helped with their confidence, and that helped them channel in their artists nature."
Niceley added that listening to local music can help people get a feel of local, individual sound.
"Different scenes have different sounds because they have different influences, so I think it's important to support the local scene so that you can get your sound out there, the Oklahoma sound," Niceley said.
The band is currently working on new music to be released next year, and they're in the process of building their own recording studio.
"Jump in with both feet," Niceley said, when asked how people can get into the local scene. "Be yourself, and just go to as many things as you can. If you're not sure, just go."
Jackson said most band members will want to hang out with concert-goers.
"We're regular joes in the crowd, so, when you get there, were there too just watching the show," Jackson said. "We want to be a part of the scene. We're there to support other bands that are here locally, and we're trying to support other bands on the road by, not only listening, but also purchasing and supporting."
The band said, two years ago, there weren't many Oklahoma ska bands, but now there's a growing scene that they're happy to be a part of.
"We have something great here in Oklahoma City," Jackson said. "We have a really great thing going. It's something special, and I think we shouldn't take that for granted."
You can catch The Big News with the Holophonics at the Blue Note in OKC on July 27 and at the HiLo club in OKC August 10 with Vegas ska band Be Like Max and Oklahoma band Dresden Bombers.
Stinky Gringos
The Oklahoma band "Stinky Gringos" describes themselves as a "new wave in feel good music" with a blend of reggae, ska, and punk. They were formed in 2016, and they recently released their first full-length album, "The Smell Good Album." They'll be playing the Bricktown Reggae Fest August 4.
Bradd Johnson from the Stinky Gringos said the band is more reggae than ska, but they find themselves influences by a few different genres.
He said he feels like sometimes people won't come to local shows, and the scene could use more active support, especially in getting people to stay for entire shows, rather than just the bands they know. He said he hopes that's something that changes in the Oklahoma ska scene.
"In Oklahoma, in general, if you can't get your friends to stay for another band, that other band is not going to gain any following," he said.
Johnson said, if people are interested in getting into the ska scene, it's important to stay-up-to-date with the bands and go to shows.
"Try to get away from the divisive stuff that you know is going on today and focus on positive things that you know will make your life better," he said. "Instead of getting on Facebook to argue with people, get on there and look for music."
Johnson said he's loved to watch the ska and reggae scene grow in Oklahoma, along with the Oklahoma music scene in general.
"The community building is great, and it will show the world that Tulsa and Oklahoma City have amazing music, not just ska and music, but overall the musicianship and talent in Oklahoma is off-the-charts, but I think it gets passed over a lot because it's Oklahoma," he said.
"Keep growing, and keep doing what we're doing, stay positive, and go to shows."

– Bradd Johnson, Stinky Gringos
Irrational Consumers
A bunch of teenagers gather in a living room inside a 900 square foot house in Norman. There's a bowl of macaroni sitting by a drum set and a Grand Theft Auto game case sitting by a houseplant named "Palm McCartney." This isska punkbandIrrational Consumers.
Their practice space is Cole and Wesley Bergersen's house, who play drums and bass, respectively. Other members of the band include Evan Kelly on keyboard, DJ Locke on guitar, David Lindensmith on trombone, and Ian Torres on guitar.
With the sound of an amp buzzing in the background and the smell of Cole and Wesley's mother cooking dinner, I interviewed the band about their new single, the advice they've gotten from local ska bands, and what being in a band has taught them.
Cole described the history behind the ska genre and the importance of the checkerboard pattern in the ska scene. During the interview, Cole wore the pattern on his shows, and Ian wore the pattern on his guitar strap.
"Originally, people from Jamaica had reggae and moved to England," he said. "The scene is kind of mixed. The reason the checkerboard is so important is that it was one of the first styles of music that embraced integrating different races."
DJ, who sat on a bucket during the interview with pen ink all over his arms, said Jacob Nicely gave them advice to not break up, which is what happens to a lot of bands in the scene.
"We wouldn't be anywhere without the Big News and LFNC," DJ said. "We probably wouldn't even be together if not for the Big News."
For their live shows, they mostly play originals, but they do have one favorite cover they like to close with – A Thousand Miles by Vanessa Carlton.
When asked why they decided to start a band, the members said it's the best extracurricular activity they've ever had.
"I always wanted to have a band," Cole said.
Irrational Consumers plans to release their EP "Straight as a Rainbow," and they're looking forward to playing shows in more cities in Oklahoma and possibly Texas.
LFNC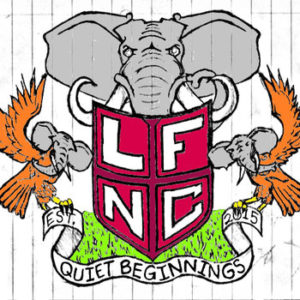 LFNC is an up-and-coming ska band based out of Oklahoma City. The band is made up of Students and Alumni from Oklahoma City University.
Micheal "Lulu" Louladakis is the lead singer of the band, Cameron Fults plays guitar, as well as Brayden Stonecipher. Sam Charlton plays trombone, Sam Key plays Trumpet, and Chris Desien plays drums.
"For almost a year now, we haven't really gone out of the way to schedule events because so many people ask us already," Louladakis said in an interview for MediaOCU. "We thought making a ska band wouldn't be popular, but I think our ability to be virtuous in the music has made people be like, 'holy cow, I don't care about ska music, this is just some vibrant stuff, man.'"
Charlton said he's been trying to make a ska band since he was in high school. The band's origins began in 2015 when Charlton noticed Fults wearing a Streetlight Manifesto shirt.
LFNC members credit much of their success to The Big News, who they've played with several times.
"They've helped us out a lot," Miceli said.
LFNC plays at house shows, opens for other ska bands, and sometimes plays at events on OCU's campus.
LFNC dedicated their recent EP to a fellow student and friend, Vinnie Franco, who recently lost his life.
Miceli said Franco used to listen to the LFNC song "Sam's Song," as a way of coping with things. He also said Franco's death was difficult for the band members and they still think of him often.
"It was really freaking tough, but the reality is that life comes and goes," he said. "We just want him to know that we are still thinking of him, and we still love him."