Amplify Hotsheet: Week of February 27th
Five-time Grammy-winning bassist Victor Wooten is performing and giving a masterclass at ACM@UCO in Bricktown April 24. Wooten was named in 2017 by the Huffington Post among the "50 Iconic Trailblazers," pictured just after former President Barack Obama, and he has thrice been the recipient of the Bass Player of the Year award from Bass Player magazine. He's even been listed as the 10th best bass player of all time from Rolling Stone. April 24, he is joined by Joseph and Regi Wooten on keyboards and guitars and Derico Watson on drums. For the first time, Wooten will lead the audience to participate in a demonstration of his educational program, Victor Wooten's Center for Music and Nature. This event is organized by Upstage Promotions, an Oklahoma City company, presenting the best concerts and events since 2017. Tickets can be purchased online.
SIYLA is a local hip-hop artist in OKC working on some new music exploring sub-geres of rap, rock, soul, jazz, and even raggae. He has a new album called "The RUE Theory."
New Orleans-born jazz sensation Eldredge Jackson is performing Mar. 16 at the UCO Jazz Lab. Tickets are available online.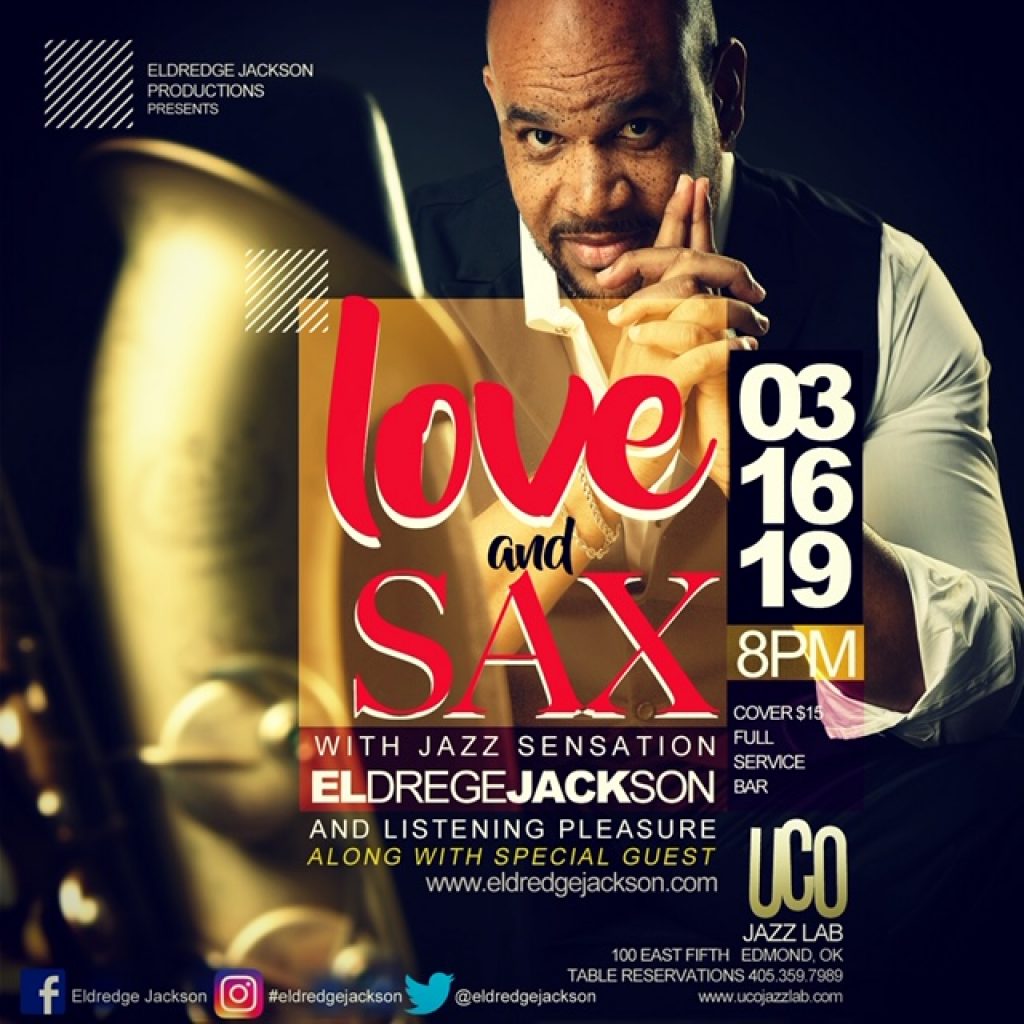 Edmond-based artist King Scott has a new album "New Color Vision."

Oklahoma City-based giltter rock band Mad Honey released a new single, "Blue & You," and it's getting tons of good reception so far.
Singer-songwriter Rozlyn Zora released her single "Speechless," and recently embarked on a three-day mini-tour. Her next show is at the WAV festival March 2. Makeup//Breakup Mini-Tour:
WAV Festival, a celebration of women in music, is March 2-3 at the ACM@UCO Performance Lab in Bricktown. The Festival is free, except for Sunday's sold-out hip-hop show from Noname. The festival focuses on empowering women in music and is even organized by women. It's also a food drive for Sisu Youth Services in Okahoma City. Click here for more information on WAV Festival. Check out the schedule below!
SATURDAY, MARCH 2

ACM@UCO campus (first floor), 25 S. Oklahoma Ave. in Bricktown

Songwriting Room

8 p.m.: The Annie Oakley
7 p.m.: Me Oh My
6 p.m.: Ramona & The Phantoms
5 p.m.: Kat Lock
4 p.m.: Creeping Toms

Acoustic stage

7 p.m.: Michéla Creel
6 p.m.: dancers
5 p.m.: Rozlyn Zora
4 p.m.: Jade Castle

SUNDAY, MARCH 3

ACM@UCO Performance Lab, 329 E. Sheridan Ave.

• 8 p.m.: Noname, with Elton and Original Flow & The Fervent Route (ticketed show)

ACM@UCO campus (first floor), 25 S. Oklahoma Ave. in Bricktown

Songwriting Room

5 p.m.: Miillie Mesh
4 p.m.: Shiann Davis
3 p.m.: Ciara Brooke
2 p.m.: Stone Tide

Acoustic stage

6 p.m.: Lauryn Hardiman
5 p.m.: dancers
4 p.m.: Sarah Byrd
2:30 p.m.: Jordan Russell
2 p.m.: Eli Tostado
The Lone Wild released their new single "Sequin Dress" from their forthcoming album. Their release show for their album will be at the Vanguard in Tulsa April 5. The new single has hazy synths, disco-inspired guitars, and "Bowie-esque" crooning.

Cavern Company is a rockin' Indie band with a tight live show, and they're hosting the first ever Indie Sessions featuring Ft. Worth-based band McAllister and local favorite Mad Honey. Cavern Company is passionate about connecting OKC's Indie Rock Scene to the national circuit, which is why they're putting together this show at Trolley Stop Record Shop March 1st.
Skirvin Jazz Club was an absolute blast in February! The March Skirvin Jazz Club will be March 15. Until then, get your jazz fix with these upcoming shows.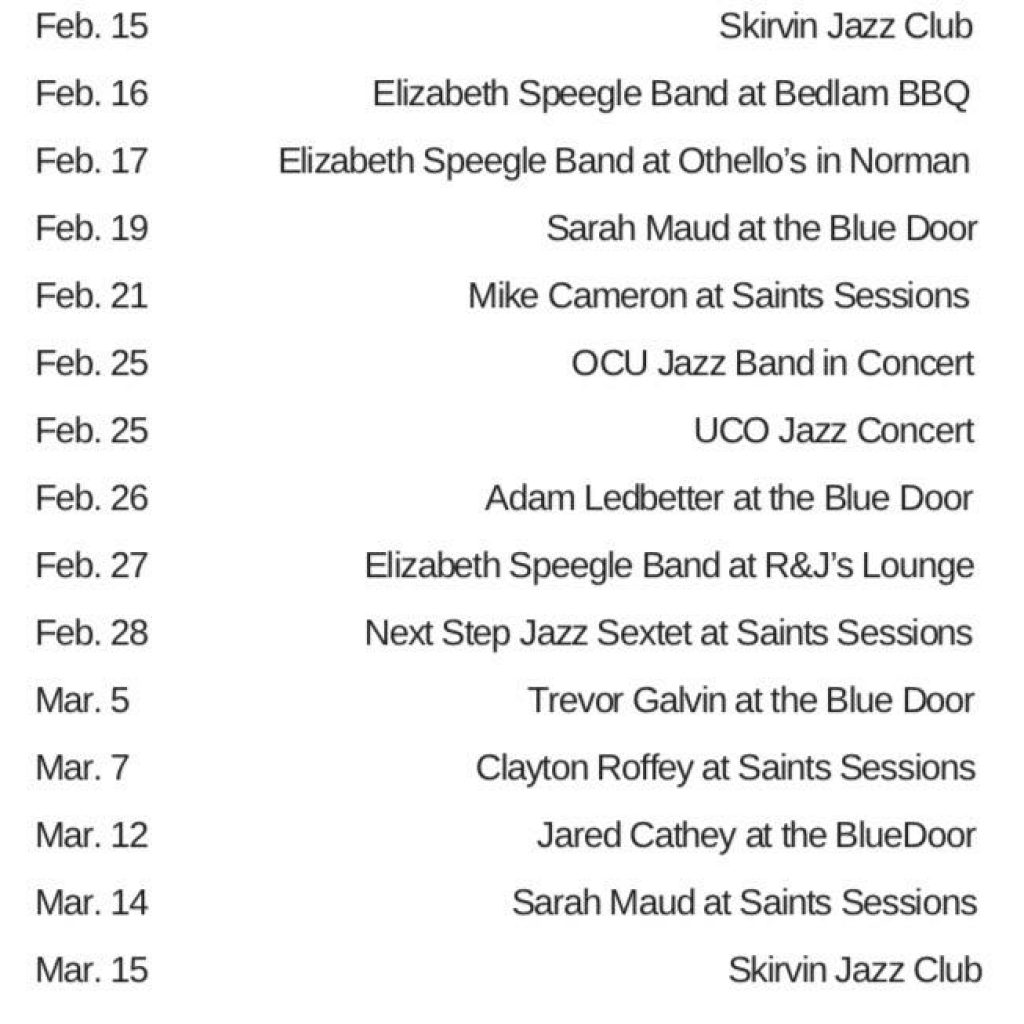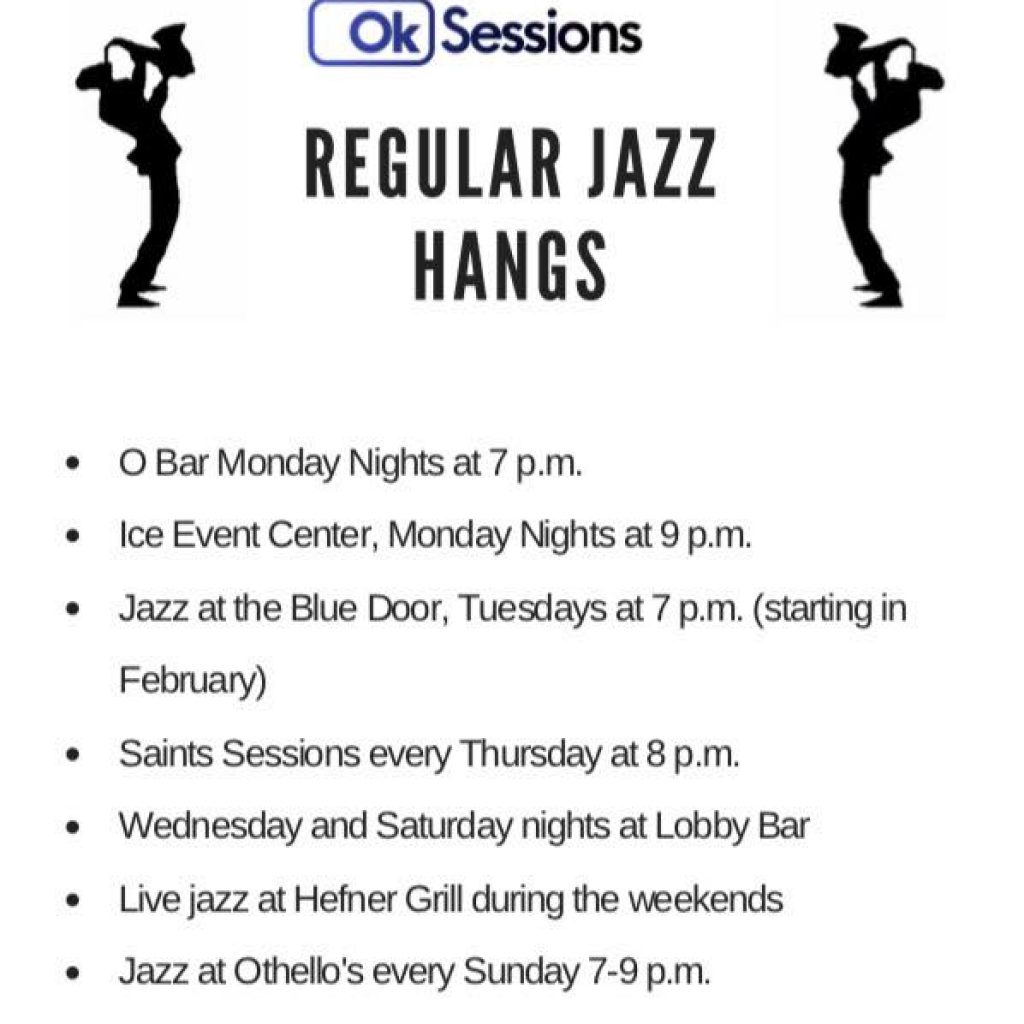 Alison Sloan has released two singles from her upcoming album "MINDBODY," which explores the Seven Chakras. Her first single, "Bible Belt Buckle," is dedicated to the Third Eye Chakra, and her most recent single, "Viole(n)t Tiaras," which dropped Feb. 27, is dedicated to the Crown Chakra..
Amplify Hotsheet: Week of February 1st
Brace yourself. The End Is Coming. Layers of Pink's double-A-side debut single The End Is Coming is available now on all streaming platforms. In the meantime, stream Layers of Pink's new single.
Space4Lease changed their name to Hookup a few weeks ago! They are in the studio recording tracks for upcoming releases, the first single set is to be released March 1, 2019 – called "Loose Friends". They have their first show as Hookup on Valentine's Day 2/14/19 at 89th St opening up for touring band Remo Drive
NIIGHTS is coming to 89th Street in Oklahoma City on March 6th, on their tour with Elvis Depressedly
Ciara Brooke released a new single, February 8th called "When I Said Yes To You". Its a love ballad. Right in time for Valentines Day!
The Gales are a folk rock/alt-country group from Tulsa. Kolby Yarbrough of Cavern Company says, 'They put on a great show!" Check out their Spotify!
Singer songwriter Grant Adams worked with bass guitar player John Stendel and producer Stuart Adams this week on three brand new songs. One of those songs in particular that Grant is excited about releasing is titled "Northwest Air" which tells the story of a recent trip to the Oregon coast. All three songs are a part of a full length album set to release later this year.
Don't Tell Dena dropped a new single Feb 1st. It is called More, More, More. They're playing March 29th – Session Alehouse in Ada and March 30th – VZD's with Electric Okie Test.
Giakob Lee is playing every Friday in January at The Colony in Tulsa from 6-8.
FM Haivala is a rapping Zombie (you read that correct) blends Hip-Hop and Trap with Death Metal and Deathcore in a way that differs from it's predecessors such as Nu Metal and Crunk Core. It's called Guttural Hip-Hop, and it's an even blend of heavy brutality and car shaking bass.
Grand Gentlemen are hosting The Art of Romance at Cellar Cafe in the Asian District this Friday, Feb 15.
Marcellus Coleman is rebooting 'We Tell Stories' at The Basement at Crestwood Vinyard 2/23.
Also on 2/23, Play It Loud will happen Live at Grand Casino. They will feature all of the artists from Season 2 of Play It Loud.
Cavern Company is hosting McAllsters and Mad Honey at Trolley Stop Record Shop 3/1.
Leah Dees is hosting Chanda Graham for a special Valentine's Day performance at Saints.
The Blue Door just started having live jazz every Tuesday! Check out OkSessions.com/bluedoor for more info.
Christian Pearson is featuring Tulsa-based Vocalist Sarah Maud at Skirvin Jazz Club this Friday 2/15/19. Tables are fully reserved but there will be standing room! March 15th Skirvin Jazz Club is sold out. We're looking at doing 2 back-to-back shows in April to make more room for people. Keep an eye out for April tickets in late February.