Stephen Salewon is sipping from a matcha latte at Classen Coffee Company, speaking over the sound of soft indie music, indistinct chatter, and the whir of espresso machines. He's intentional with his words, both in conversation and in songwriting.
Salewon's music is exactly what you'd hear in a coffee shop like this, chill, contemplative, and comforting. We spoke with Salewon about his newest EP, "All Around," which was released August 25.
The Stephen Salewon Sound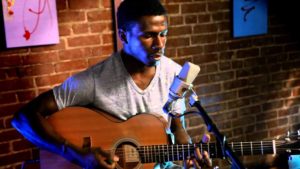 Salewon's sound is bluesy, deep, folky, and authentic. His influences include John Mayer and Jack Jackson, but he doesn't really stick to one genre. He was raised in Nigeria and moved to the United States at 13, so he also brings in African influence to his songs as well, which is part of what makes his sound so unique.
"It kind of lets the listener know that I still have that DNA, and I still have that unconventional sound," he said.
Salewon began his musical career by singing in his church. Once he realized his talent, he decided he also wanted to learn how to play instruments.
A defining moment for Salewon was hearing the John Mayer song "Bigger Than My Body." He said he played that song countless times because he was so in love with the musical complexity and composition. Once he heard that, he knew he wanted to write music.
"Primitively, music is something that I love to do. Every moment I get to perform or write music, it just enhances my soul." – Stephen Salewon
Salewon wrote some love songs and started performing at open mic nights in places like the Paseo District and getting in touch with other local artists. Since then, he hasn't stopped. A big moment for him was when he realized that people will actually pay money to see him and his band play.
"All Around"
His new four-track EP begins with a french-inspired love song, transitions into a break-up song, a more indie jam, and finishes with an optimistic reflection.
The album is about relationships, pulling from Salewon's personal experience as well as his thoughts about what a relationship could be. He said the album is a bit of an emotional and musical rollercoaster, but the overarching theme is contemplation.
"This is music that people will listen to and want to be able to reflect on their personal lives," Salewon said. "There's a lot of deep conversations, perhaps sober and solemn. It's music you can drive to, listen to with the love of your life, go to sleep to."
The title track, "All Around" features Nia Personette and Sophia Babb from Oklahoma folk band Annie Oakley. Salewon contacted the band with the idea of collaborating, and, as soon as they started recording together, he knew it was the right decision. The result of the collaboration is a beautifully-delicate song. Salewon's deep, soulful voice and Babb's crisp Americana sound complement each other perfectly.
"Right when Sophia started singing, I was in love with the sound," Salewon said. "Then Nia added her own flavor, and we started coming up with ideas and spent over five hours. When we were finally done with the track, I just sat down and listened to it. It was just a blend of emotions, this angelic violin. It sounded like a thousand violins. It felt reviving, and it felt right."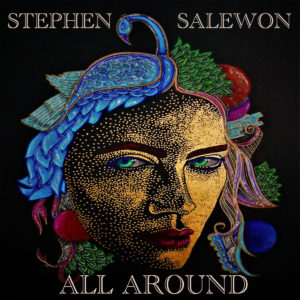 The album also features Jason Welch on Bass, Julien Bousson Tie' on Drums, John Needham on guitar, Abiola Taiwo on backup vocals, and Evangeline Sivuilu, who sang French on the opening track. The mixing and mastering was done at Castle Row Studios by Luke Tallon and Ron Treat.
Salewon said he isn't sure what the future holds for him, but he's in a phase of exploration and just feeling at peace with his journey, although he has thought about moving out of Oklahoma to fully pursue a musical career. Ultimately, he said he just wanted to make sure he's moving forward in whatever way that presents itself.
"I'm doing it out of the love of music," Salewon said. "If I truly wanted to take things to the next level, I would take it to the home base of music in Nashville. But, as of right now, I'm just inspiring everyone one at a time."
Check out this article about Salewon and two other Oklahoma singer-songwriters, who are making a name for themselves.