Sitting outside Classen Coffee Company on a rainy day, with the smell of cigarettes and coffee and the faint sound of music and rainfall sets the tone for a conversation with the dudes from Bad Jokes – super easy-going with a fair amount of edge, just like their music.
Bad Jokes, but a good time
Bad Jokes' music has a lot of unique elements, but one thing rings true – it makes people happy.
When the band was asked to describe the vibe of their music, they said it's like cruising with the windows down, during through the mountains with the sun shining, carefree and relaxed. On their Bandcamp, they list their genres as "Punk, Blues, Soul, Rock and Roll baby, Whatever, and Who Cares," if that gives you an idea.
When you go to a Bad Jokes show, everyone is movin' and groovin' and having a grand ole time, and that's just want they want to see.
Check out the video of Bad Jokes performing at Deep Deuce Sessions below!
Bad Jokes is made up of Bradley Morris on guitar and vocals, Britt Stewart on bass and vocals, Nick Rausher on guitar, and Herman Sullivan on Drums.
Many of the band members have metal influences, but they also draw from more upbeat and poppy sounds, settling on a grungy, floaty, and almost beachy vibe. They noted Fidlar and Dr. Dog as influences.
"We like to give people an exciting time, like a nice little party. That's the main thing," Rausher said. "Like we've got some darker sounding songs, but they're still fun."
Morris described the music as "whimsical," which is pretty spot on. At their core, they want to have fun. When you listen to Bad Jokes, you'll probably want to listen a few times partially because you aren't 100% sure of what's happening, but also because they're some dang good songs.
Behind the Music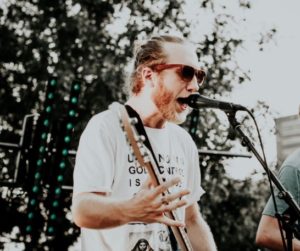 Bad Jokes has six recorded songs (a four-song EP entitled "Shoe Shine" and two singles – "Eskooya Gatta" and "La La Land").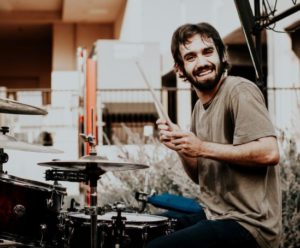 It's a common theme in Bad Jokes' music to mix seemingly happy, nonsensical music with dark lyrical content.
"That's something we do a lot because we try to make everything sound good, but pretty much all the stuff we write about it pretty dark and kind of existentialist," Rausher said.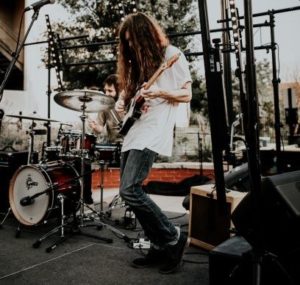 For instance, the songs "Tina Turner" and "Stuck in My Skin" are both about drug abuse, which is a struggle that's close to home for Morris.
"My dad struggles with drug abuse and has since I was a kid," Morris said. "But the songs sound really whimsical and happy."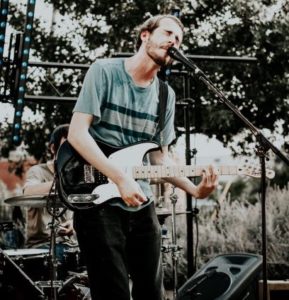 The song "La La Land," which was released in July, is an anthem of avoiding responsibility, lacking motivation, and dodging confrontation, with lyrics like "I ain'tgot no big boy plans, so I'll be stayin', stayin' here in La La Land" Bad Jokes encourages listeners to "kick their feet up and relax all day," and offers a sense of camaraderie for anyone who feels the same way.
The song is a perfect example of the Bad Jokes vibe – this idea of "things are bad, but let's boogie."
"It's kind of like finding peace in having those thoughts and being existential and just kind of embracing wanting to be lazy and not wanting to anything sometimes," Morris said.
The song "Cranberry Sauce" is another song that perfectly encapsulates their whimsy. Layered with guitar solos, vocal "woos!" and jammin' rhythms, are strangelyrics like "Cranberry Sauce concoction burnin' in the pot, but we forgot to check the temperature, and things got pretty hot. We forgot to stir the sticky stuff, and now we're left with one big blob." Does it make sense? Probably not. Will it make you burst into dance in your car? Yeah, for sure.
Bad Jokes is featured in the OkSessions Indie playlist below!
Getting the Band Together
The guys have all known each other since high school, and Stewart, Rausher, and Morris played in a separate band together for two years. Bad Jokes began in late 2016, and they played their first show March 19, 2017 at the Paramount. Sullivan then joined the band in January of 2018.
They didn't have drums at first, so they did what any good DIY band does – bang books, pots, and pans together to make percussion sounds.
The band name originally was "Dad Jokes," but they changed it due to the abundance of bands with the word "Dad" in their name.
"We changed it to Bad Jokes just because…we love telling bad jokes," Stewart said.
Morris said the name also serves as an identity for the band.
"We don't really take ourselves too seriously at all, so that kind of plays into the name," he said.
What's New?
Bad Jokes is working on new music at the moment, recording a 10-11 song LP. They're recording it themselves in Rausher's living room, which is what they've done for the past music as well.
They're also looking forward to doing some photo shoots and a music video
The band said they've been really excited watching the way the Oklahoma music scene has grown throughout the past several years, and they've gained inspiration from other Oklahoma indie bands like Broncho and Sports.
"I'm just really proud of Oklahoma," Sullivan said.
Bad Jokes will be playing Coop Ale Works Showcase Sept. 26 along with Foxburrows and Audio Book Club. They said they're super excited about the opportunity, and they're working on setting up the visuals for the show. Stewart added there might be some surprises from the band. You're not gonna want to miss this show.
Buy your tickets to see Bad Jokes at the Tower, and check out this article about how the Tower is building live music culture in OKC.
Bad Jokes is a band with a lot of enthusiasm, talent, and uniqueness, and they're definitely an act to watch.