Saxophonist Logan Gorrell has been described as one of the hottest young swangers of Oklahoma City. From the UCO Jazz Lab in Edmond to the 51st Street Speakeasy off Western Avenue. Logan is a first-call cat, sitting in with greats and leading collaborations with other performing artists via the OKC Jazz Syndicate.
Breastfed with Jazz Excellence
From an early age, Gorrell was surrounded by great jazz musicians and educators alike. A 21, he has played with jazz greats such as Donny McCaslin, John Daversa, Terell Stafford, Peter and Will Anderson, and Bob Mintzer. Not to mention playing in the horn sections of Motown giants such as the Temptations and the Four Tops. He grew up immersed the bebop tradition while maintaining deep roots in the blues.
The OKC Jazz Syndicate
Gorrell is also the founding member of the OKC Jazz Syndicate, a supergroup of Oklahoma City's finest who can be heard regularly at venues like The 51st Street Speakeasy or Saints. The group focuses on bringing the highest level of traditional jazz OKC can offer.
Collaborations broader than the music
Gorrell also runs the band for a traditional New Orleans style burlesque show, featuring high class performers bringing their sophisticated brand to Oklahoma from New Orleans. Spectators will be treated to the sultry sounds of a live jazz band as a bevy of beauties, true artists of the tease, will entertain and delight with classic choreographed dance.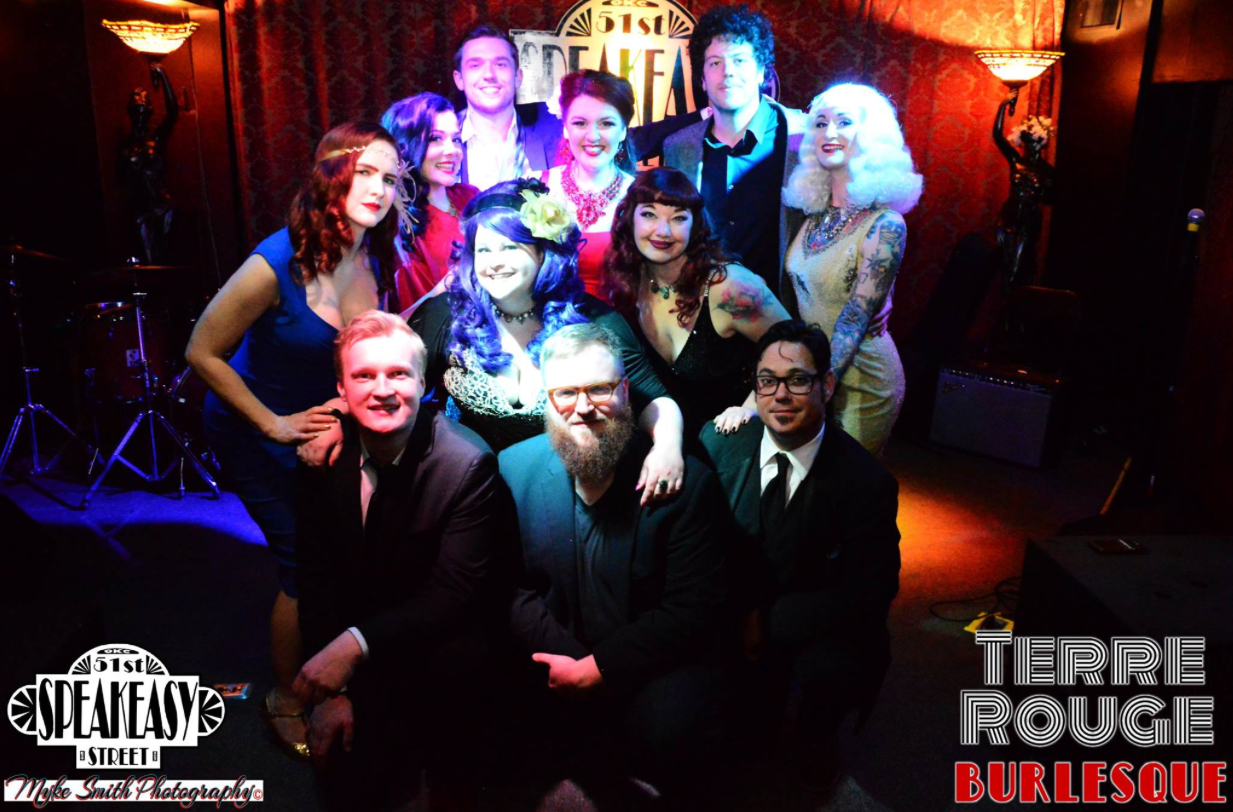 We sat down at Empire Slice with Logan after a Thursday night Saints Session where he sat in with the Adam Ledbetter Trio…
Q: Tell me about tonight?
A: TheAdam Ledbetter Trio, one of OKC's foremost jazz groups played tonight. It's cool to see how the scene is evolving and changing. A few years ago, you couldn't go out and hear jazz happening on that level. Saints is such a good venue for that sort of intimacy… yeah just seeing the community at large come out and support… everyone in the bar was a part of the atmosphere. It was a good night.
and a great pathway for people who want to learn to listen that didn't use to be there. There didn't use to be a place for you to come learn to listen.
Q: What's your music like?
A: It's a mix of midwestern blues and modern straight-ahead jazz. Definitely a lot of Kansas City/ Oklahoma City swing sound. Looking at my own playing, my music really comes from the blues.
Q: What is the Blues?
A: Let me think about that… That's a damn good question. The Blues is a way of expressing the human condition…. In a way that no other medium can. You can express anything whether it's sorrow or joy. It's really just expressing the human experience in a profound way.
Q: So what should your audience expect if they come to hear you live?
A: a very heavy influence on modern improvised music. My band is full of that Oklahoma City blues sound. Expect an intimate show for sure. More of an intimate show than a rager. Ha.
Q: What's your music look like right now, and what does it look like in a year?
A: I def want to incorporate new textures. I want to incorporate electronic music with straight-ahead jazz. More original music as well. That's what I've been hearing for a while and I'm trying to figure it out.
Q: What does music feel like to you?
A: … It feels like… I hate to use the word intimate so much… but it feels like a really intimate conversation with a friend. Just an open conversation where you can bring up any subject. I feel a lot of gratitude to get to play with the guys I play with.
Q: Who are some of the people you play with?
A: Grant Goldstein, Jared Cathey, Garrison Brown, Kendrick McKinney, Garrett "Big G" Jacobson, David Bowen, Jemar Poteat, Adam… I guess everyone who's a part of the Oklahoma City Scene.
Q: What's the next step for the OKC Jazz Scene? and how do you fit into it
A: The next step is largely on the artists now, because there are more opportunities to play. Everyone needs to go home, rehearse more, write more original music, and collaborate more. There need to be more bands focusing on original music and rehearsing regularly to differentiate themselves from jazz session bands. That's sort of the status quo right now.
If you're in California in September, you can catch Gorrell with UCO's Top Band Sept 22, 9pm UCO Monterey Jazz Ensemble @ Monterey Jazz Fest, North Coast Brewing Stage and Sept 23 12:30pm UCO Monterey Jazz Ensemble @Monterey Jazz Fest, Garden Stage.
This guest post was Contributed by Garrison Brown as part of Amplify. Follow Garrison on Instagram and join the Amplify Community to get more involved in OkSessions' effort to build OKC's local music economy.