Oklahoma City is experiencing a cultural renaissance, especially with regards to live-music culture. So many artists, businesses, and visionaries are creating live music experiences, it can be hard to keep track of all the good stuff happening. Use this post to get a bird's-eye view of OKC's recurring local music events, and you can be the champion of the next date night, party, or family outing. Here we go:
Coop Showcase: Tower Theatre
Tower's Theatre commonly hosts touring headliners and movies, but once per month, they go all out for the best local talent. Coop Aleworks and Tower bring OKC a 3-band lineup of top local talent at a ridiculously affordable ticket price. We love to see the bands who perform here bring that extra level of polish and showmanship. The Coop Showcase is one of the best ways to find new local bands to follow. Get tickets on their website.
There's a video from Dennis Spielman of Uncovering Oklahoma:
Wheeler District's Summer Music Series: Wheeler District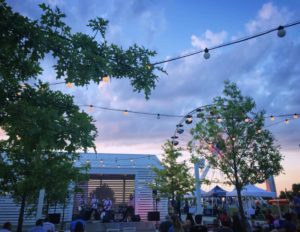 Wheeler District is nestled just south of the river and is absolutely beautiful. You can always catch views and vibes, but once a month you can also enjoy a well-curated lineup of local bands on their stage. The District brings in food trucks, the ferris wheel is in action, and the crowd gathers with lawn chairs to soak in great live performances in a family-friendly environment.
Deep Deuce Sessions: Deep Deuce District, Downtown OKC
We're a bit biased, but this one is amazing. It's not cool because of us, it's cool because this collaboration brings together OKC's musicians, businesses, creatives, and people in a way that builds a thriving culture for live music. We book multiple stages with multiple bands for various genres so OKC can come out and experience new things, while also knowing there will be something there they know and love. Oh yeah, and it's free.
Sunday Twilight Concert Series: Myriad Gardens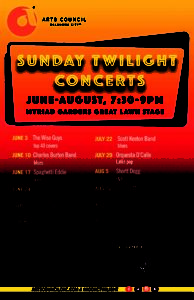 Arts Council OKC and the Chickasaw Nation are responsible for this amazing concert series on the Great Lawn of Myriad Garden. Directly south of Devon Tower families gather on blankets and lawn chairs for lively concerts throughout the summer.
The Yard Summer Concert Series: Auto Alley, Downtown OKC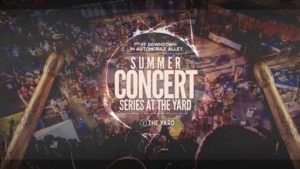 The Yard throws great parties, and their Summer Concert Series is no exception. A half dozen nights throughout the summer, The Yard goes all out, converting their parking lot to a big stage with large spool tables and a dance floor. They bring in large spotlights and lasers to attract the attention of anyone who happens to be downtown.
The beer is cold and the music is loud. There are games and bars throughout the venue. It's the perfect party for a summer night.
Heard on Hurd: Downtown Edmond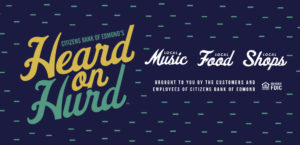 Citizen's Bank of Edmond is a driving force behind local music culture at Tower Theatre and in their hometown. Heard on Hurd is their monthly community event featuring dozens of food trucks and a big stage in Downtown Edmond.
Heard on Hurdmay have been inspired by our next event…
H and 8th: Midtown, Downtown OKC
We have to mention Midtown's famous food truck event. This event doesn't happen as frequently as it used to, but it's worth keeping an eye out for because they've been known for an occasional revival.
See you there!
We can't wait to see y'all at these live music events. Share this post with your friends and help build community. If we missed any, email us at hello(at)OkSessions.com, and if you'd like to review one of these concert series, we recommend looking into OkSessions: Amplify.